The 2011 Festival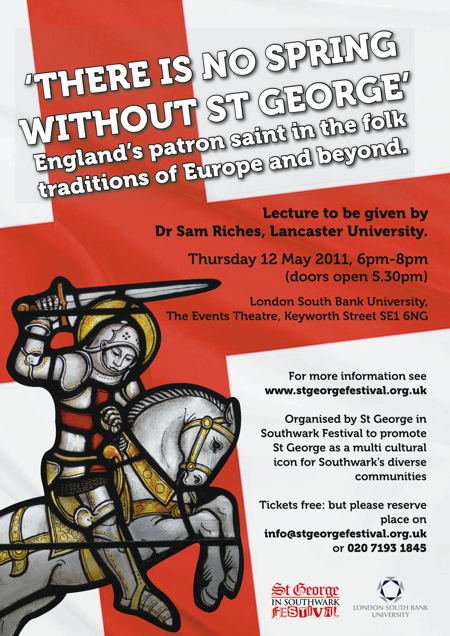 In 2011 St George's Day coincides with Holy Saturday, the day between Good Friday and Easter Day. The church moves the liturgical celebration to 2 May.
This year St George in Southwark festival invites supporting organisations to organise their own celebration if appropriate. Events can be listed on this website.
St George in Southwark Lecture Thursday 12 May 2011
'There is no Spring without St George': England's patron saint in the folk traditions of Europe and beyond.
Dr Sam Riches, Lancaster University.
6pm
doors open 5.30pm
Events Theatre, LSBU Keyworth Building, Keyworth Street, SE1
Supported by London South Bank University
To reserve a place email info@stgeorgefestival.org.uk or leave a message on 020 7193  1845
Dr Sam Riches is a cultural historian with a particular interest in pseudo-historical saints, especially those who encounter monsters. She has published extensively on the late medieval cult of St George, and is the author of St George: Hero, Martyr and Myth (Sutton, 2000/2005). Based at Lancaster University, Sam is the  main author of an educational website developed for Cumbria and Lancashire County Councils: www.stgeorgesdayproject.co.uk