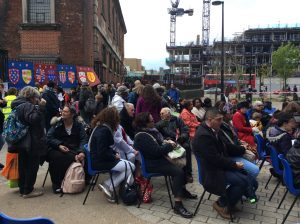 .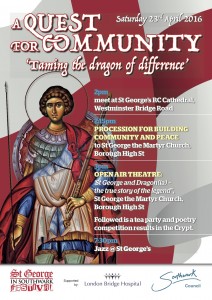 Quest for Community:Taming the Dragon of Difference.
2.00pm Street procession through St George's Fields, from St George's Cathedral to St George the Martyr church in the Borough
3.00pm St George and Dragonia: specially commissioned street theatre
followed by Tea and Prize Giving for Poetry Competition
7.30pm Jazz concert. Free.
Contact us at St George the Martyr church or email info*stgeorgefestival.org.uk
Other Events
Weds 20 April, 10.45am to 4pm
 THE URBAN SACRED IN SOUTHWARK, Bankside Community Space, 18 Gt Guildford Street, London
Coincides with the photography exhibition 'The Urban Sacred: How Religion Makes & Takes Place', at the London-based Menier Gallery, Southwark Street.
Fri 22 April 6.30pm
St George's RC Cathedral, Westminster Bridge Road, SE1
Vigil Mass of the Feast of St George celebrated by Archbishop Peter Smith, followed by a reception in the Amigo Hall.
Saturday 23 April
2.00pm Southwark Cathedral
'Find me a Publisher!': Arthur Smith (Radio 4) and Rick and Jane Jones (lute and voice)
The truth about Shakespeare's first publishers. Free.
Sunday 24 April