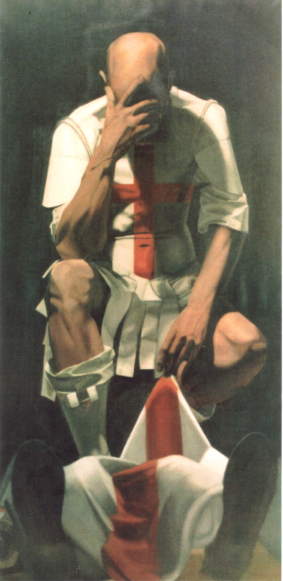 St George Painted as Saint of Peace
A new painting of St George by Scott Norwood Witts was unveiled at the Roman Catholic Cathedral of St George, Southwark on St George's Day 2008.
St George and Dead Soldier was stimulated by the deployment of British forces overseas and the historical misrepresentation of St George. The patron saint of soldiers and England is shown battle weary, identifying another fatality of war – exploding the contrived mythical identity developed during The Crusades, to reveal a man in mourning. As a high ranking soldier of the Roman Empire converting to Christianity was extremely dangerous, yet his faith inspired him to put down his weapons and personally confront the Emperor Diocletian over his persecution of Christians. The lifesize, but intimate portrait shows the 'dragon slayer' as a saint of peace and one chose debate over violence.
The painting was displayed on 19 and 20 April and then officially unveiled and blessed by the Dean on St George's Day and exhibited until 3 May 2008.
Scott Norwood Witts has previously exhibited at the American Church in London and the Carmelite Friary in Kent. Commissions have included altarpieces at Dover Castle and the Royal Garrison Church at British Army HQ Aldershot.